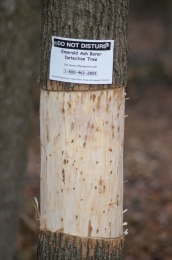 About Urban Wood
Last Updated November 2nd, 2020
Urban wood consists of wood from storm activity, park maintenance, tree trimming, construction, demolition, and discarded lumber and pallets. It can take a myriad of forms ranging from primary wood products and unique, salvaged wood features to wood shavings and residues depending on the form, condition and dimensions of the tree or other parent product. Normally, urban wood is disposed of in landfills, which adds to waste streams and creates extra costs for municipalities. Alternatively, using urban wood in construction, in landscape design, to build furniture, or to generate heat and power can help to grow a local bio-economy while decreasing disposal and tipping fees.

Utilizing urban wood waste can also help municipalities by turning a cost-burden scenario into an income-generating opportunity and assist in combating climate change. Wood energy is renewable and can contribute to reductions in carbon emissions compared to fossil fuels, especially when utilizing wood waste or harvesting wood from sustainably managed forests. Additionally, reusing urban wood in construction, furniture making, or other long lived products continues to lock away carbon in the wood fiber instead of letting it decompose and be released back into the atmosphere.
Options for Reuse:
Reuse
Recycling
Waste to Energy
Measurement Units:
Chips and sawdust generated from tree removal and/or manufacturing processes (that are used for energy purposes or mulch) are generally bought and sold on a per ton or per cubic foot basis.
Outside Resources:
Wood Utilization Options for Urban Trees Infested by Invasive Species (PDF)
Utilizing Municipal Trees: Ideas from Across the Country (PDF)